When it comes to RVing, space is at a premium and that's true whether you have a small travel trailer or a 44 ft Class A Diesel with slides, especially if you are living in it full-time. That's why having a grill on your RV is an absolute must. Being able to cook outside instead of on board your motorhome is like adding square footage! Take a look at our top picks for RV grills for different size RVs and trailers.
RVs Under 20 Feet 
For most small travel trailers, pop-ups, and Class B RVs, you likely won't have a great option for mounting your grill so a compact portable option like a table top grill is your best bet.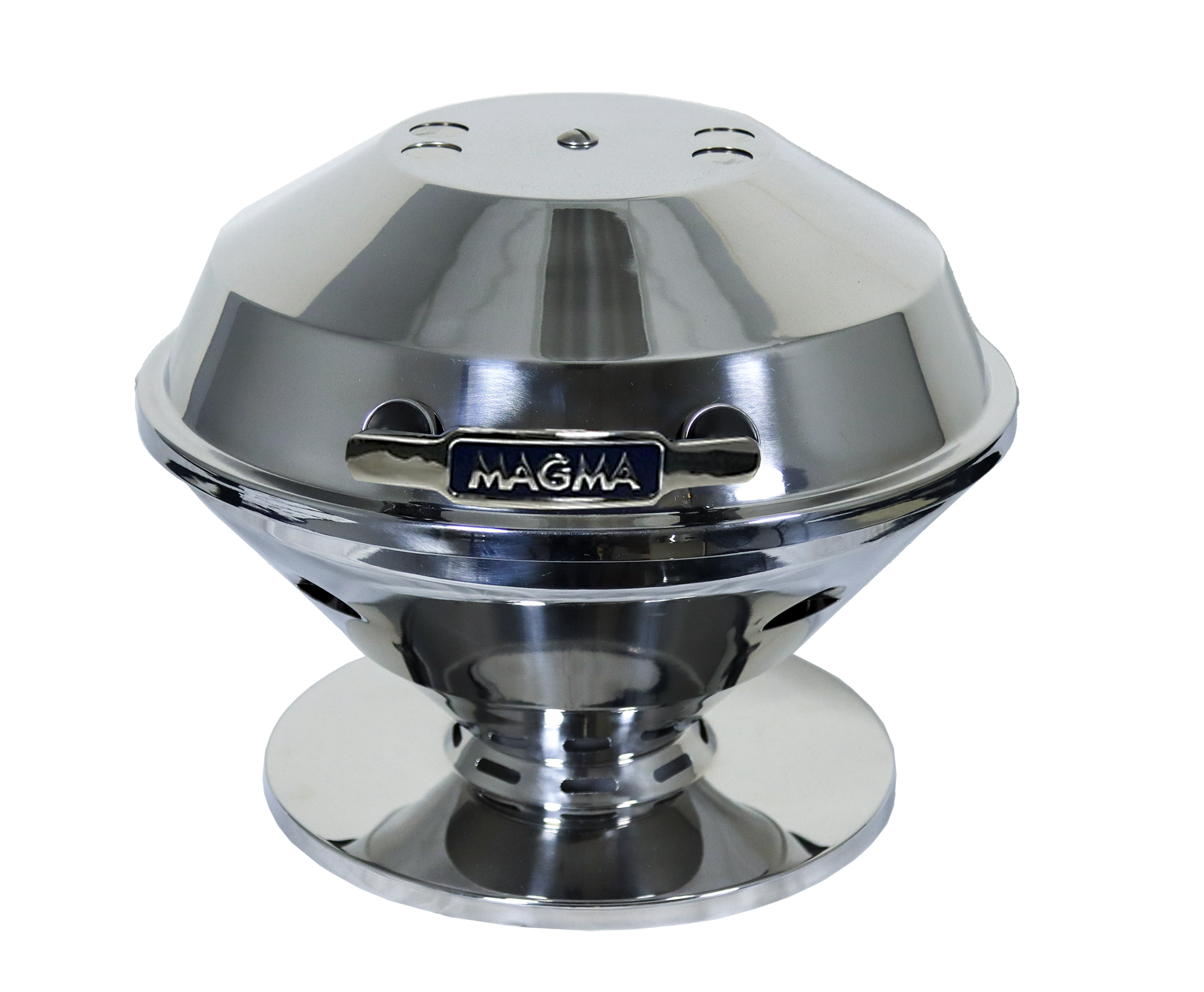 Magma's Beach Fire Charcoal Grill is a great choice for smaller models because it's so compact. The cooking grate is 13" in diameter and it's basically the full width of the grill so you're not taking up additional storage space with serving trays, cutting boards, or side burners. Plus, because it's a charcoal grill, you don't have to worry about storing backup fuel canisters, you can bring the charcoal you need and easily pick up more as needed along your travels.
Mesquite Gas Grill
Prefer the convenience of gas? Our Mesquite gas grill offers a 9x12 inch cooking surface perfect for 2 people, features fold away legs, and a swivel control valve regulator that is compatible with 1lb. disposable propane tanks. The grill is designed to burn fuel extremely efficiently so you won't have to worry about carrying a ton of extra canisters with you.
20 to 40 Foot RVs
Mid size RVs and travel trailers often have options to mount or store your grill so you have a bit more freedom to choose a larger model.
Very similar to our Mesquite BBQ Grill, but larger in size, the Baja Gas Grill offers an additional 6 x 9" of grill grate to work with making it perfect for families or larger groups.For RVer's looking to hook up to larger propane tanks, natural gas, or existing low pressure propane (LPG) and natural gas (CNG) fuel systems, most of our gas grills including this model are easily modified.
Our Crossover Single Burner and Grill Bundle features a Single Firebox, powered by a 15,000 BTU burner. It works as a stand alone stove or grill with the detachable grill top. Still quite compact, the stackable design means you get a grill and a camp stove in the same small footprint. Plus, the Crossover system has other add-ons too including a griddle, plancha, or pizza oven top to help you expand your outdoor kitchen.The Crossover can be used as a table top RV grill, mounted to our Quad Pod Stand or secured directly to your RV with our 4" bumper mount.
40+ Foot RVs
For RVers who drive a Class A motorhome or tow a 40+ foot fifth wheel trailer, you have the benefit of a little more space to mount or stow your RV grill.
Our modular Crossover Grill is the perfect option for your luxury motorhome. This incredible bundle includes the Single Firebox plus the grill top, griddle top, and pizza oven. Effortless to ignite, convenient to cook with, simple to clean, and leaves no lingering cooking odors indoors, you'll likely never want to cook inside your motorhome again after you experience the ease of cooking on the Crossover.

Cooking for a family or bigger group? Choose our Double Burner Crossover Bundle with the same great attachments, only two times the cooking area. Boil water for pasta while making a pizza? No problem. Grill burgers while toasting up buns on the griddle? No problem. With double the cooking area and three great attachments, you really can have it all!

Browse Magma's complete selection of RV Grills and RV cooking accessories including nesting cookware, retractable grill tools, grill covers and more.